Partnership

Expand your business with iRed

We're always looking to establish new partnerships in industry.
Whether you work for a leading brand or a small business owner, a partnership with us can help benefit your organisation and enable you to offer thermal imaging and remote sensing as a service. We value long-term partnerships that can help promote the field of remote sensing and encourage best-practice in industry.
Partnership Opportunities
Partnering with iRed allows you to utilise our accreditations, expertise and resources, meaning you have access to fully-insured, UKTA Approved PCN Category 1, 2 & 3 thermographers. We're also able to provide specialist aerial surveys, with our pilots operating with Permissions for Commercial Operations (PfCO) from the Civil Aviation Authority (CAA).
Whitelabeling
Our white-labeling solutions enable you to meet customer needs without investing in costly equipment and lengthy training.
Easily integrating thermal imaging into your existing range of services allows you to focus on your business' core competency, without any additional hassle.
Report Writing
It's often required that reports are signed off by a Category 2 / Level 2 thermographer in order to fulfil scheme or insurance requirements. For those in possession of a Category 1 / Level 1 qualification, we're able to add expert analysis to your images and sign them off for client hand-over.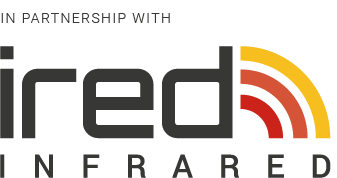 Accreditations



We're proud to maintain a number of accreditations, certifications and affiliations with national and global organisations.

Thermal Imaging Surveys
Commercial thermal imaging surveys in accordance with the criteria set out in BRE 176 and BS EN ISO 13187.