We've recently been informed that a screen grab of some thermal footage we've been shooting for ITV Cheltenham Horse Racing has gone viral, although perhaps not for the right reasons!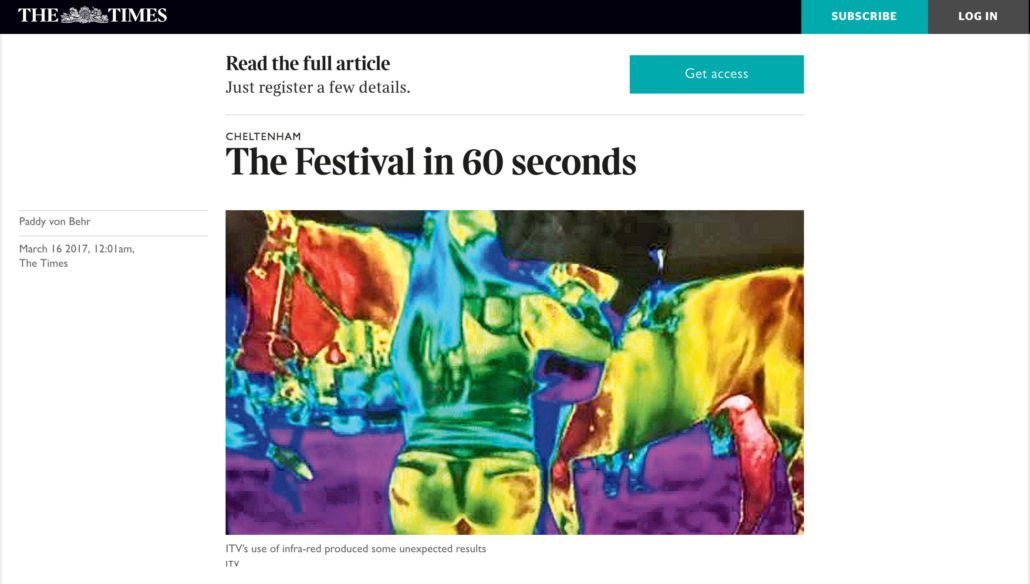 "ITV have taken the technological aspect of their racing coverage to a new level this week with an infra-red camera in the parade ring but this latest innovation somewhat backfired yesterday. The camera, which highlights the contrasting body temperatures of horses, unintentionally captured a little too much of a woman while she poured a bucket of water over Yorkhill after his win. The producer may have had a quiet word with the guilty cameraman." – The Times
You can read the full article on The Times website as long as you have a subscription.
The footage itself was taken using our customised thermal imaging camera and bespoke broadcast system. This system was expertly created by our in-house technicians, allowing for advanced features that are fundamental for producing high resolution thermal video of broadcast quality.
We enjoy working on interesting and exciting projects, so if you have something in mind that involves infrared technologies, give us a call on 01243 370 296 or email [email protected]