FLIR E75 Thermal Camera
The FLIR E75 thermal imaging camera has the sensitivity and resolution needed to diagnose problems and find hidden deficiencies, even from a distance. The 320 x 240 true native resolution offers more than 76,000 points of temperature measurement and produces crisp, vibrant imagery, while interchangeable lenses offer complete coverage of near and distant targets.
Est. Lead Time:  5-10 Days
FLIR EXX Series™ Thermal Imaging Cameras
The FLIR® EXX Series combines all the latest thermal imaging and communication features. The thermal camera offers superior sensitivity and a true 42° field of view in a user-friendly hand held platform. These cameras through infrared can detect even subtle indications of building deficiencies and moisture intrusion. They can offer on-screen area measurement so you can easily quantify and document air leaks, moisture and other building problems. A large touchscreen provides intuitive menu navigation and new technology allows lenses to be added or shared without factory recalibration.
FLIR E75 Key Features
320×240 radiometric thermal detector
Radiometric and non-radiometric video recording
Integrated digital camera for reference images
Moisture and insulation alarms
Add voice and text annotations to your images
Directly sketch onto thermal images using the touchscreen
Integrated compass for GPS data and image orientation
USB, Bluetooth and WiFi interfaces
Powerful batteries with up to 2.5 hours operating time
Tripod mount (UNC 1/4″ – 20)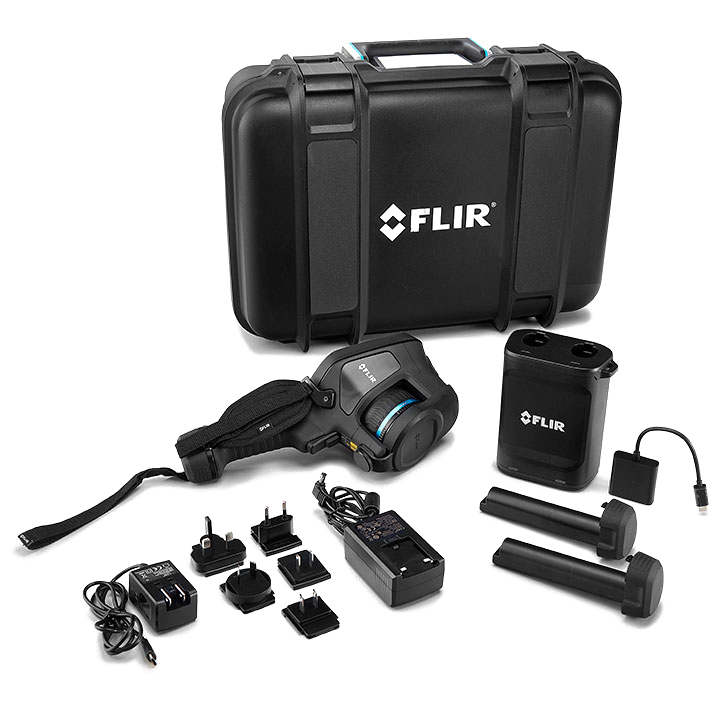 What's included with the FLIR E75?
FLIR E75 Thermal Imaging Camera
2 x Rechargeable Batteries
Lenses (As Selected Above)
Hard Transport Case
Hand/Wrist Strap
Power Supply for Battery Charger
Power Supply, 15W/3A
SD Card (8GB)
Torx Screwdriver
USB 2.0A to USB Type-C cable, 1m
USB Type-C to HDMI Cable
USB Type-C to USB type-C cable, 1m
YOU MAY ALSO BE INTERESTED IN